GET REAL PEMF!
Let's be clear! Impulse or Ringer Technology systems do have a purpose but it's NOT HEALING, it's pain relief! There is no Perfect Solution but if you are looking for long-term highly-effective treatment with ultimate effect then REAL PEMF is the only answer. Read on!
REAL PEMF is defined as PEMF (Pulsed Electromagnetic Field) where the system or device creates a true or real pulse of magnetic energy or field. Impulse, Ringer or Pulse systems do not do this. They create a series of spikes of energy and the individual pulses contain am unlimited and unpredictable frequencies. Those spikes are more like radio signals and are not magnetic pulses. Systems in the Curatron 2000 family are ones that utilize pure sine wave energy while the Curatron FLASH System creates Impulses or Pulses of energy.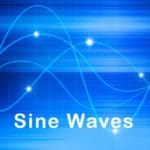 Most successful REAL PEMF systems create a sine wave or an approximation thereof. Sine waves occur naturally in nature and present a waveform to our cells that allow them to react in a positive way. Sawtooth and Triangle Waves create unnatural reactions and probably could be described as raspy. Musical instruments usually create sinusoidal waves that are pleasing to our ears. Snare drums and cymbals are examples of Ringer or Pulse technology in the world of music.
The graphic below demonstrates some of the waves used in nature and PEMF systems.
---
The triangle wave and the sawtooth are quite easy to create electronically, that's why some manufacturers use them. The disadvantage of these waveforms is that they have a slow rate of rise which creates a slow "Speed of Induction" which is critical to the cell's reaction to the magnetic signal. Testing has proven that a fast rate of rise creating a high speed of induction is the most effective.
You can read more about Speed of Induction at my blog at www.pemfschool.com/pemft-speed-of-induction-how-important-is-it.
The Curatron 2000 Family generate square wave gated sine wave technology. The square wave is used as a gate that opens and closes allowing the sine wave to pass through or to block it. The energy entering the body is controlled in this fashion. The longer the gate is open, then the more energy passes through. This is one of the unique design features allowing the Curatron 2000 Family to stand out as the best REAL PEMF system available today.
Amjo Corp has been working with Curatron systems for nearly two decades. Our first sale of a Curatron PEMF system was in May of 2000. Our experience and knowledge are second to none. Call us and find out!
The information at this website including the science pages, doctor's letters and the testimonials from our customers are not meant to imply that you will receive similar or identical results. It is very important that you do independent research before ordering a Curatron 2000 product. The information provided in this website is not medical advice. Readers are encouraged to obtain the help, services, and recommendations of doctors and other licensed medical practitioners. The webmaster and none of us at Amjo Corp are not medically trained and we are selling this product as a business and for profit. In the USA, the Curatron 2000 series have not yet been granted FDA approval as a medical device.  Please read and heed all the information provided by your doctor and in the manual provided with the products we sell. We strive for accuracy. It's possible that there are errors on this website, you the web visitor should take the time to perform thorough research independently of this web site, Amjo Corp and Curatronic Ltd. cannot be your sole source of information. We encourage you to do independent research of this technology. Please do not use this website as your sole source of information for PEMF Technology. Outside the USA pulsed magnetic field therapy (PEMF) has been approved in some countries, by health authorities as medical therapy for human applications. In the European Community the Curatron devices are certified as medical devices according to the Medical Device Directive 93/42/EEC.  The devices are manufactured according to ISO 13485 for Good Manufacturing Practice.