About Chris Cane "The Author"
Chris Cane is a guy whose technical career spans over fifty years. His first technical job, which began in 1966 was with the phone company. His background is in the world of technical maintenance, sales, and support for a wide range of all things technical.
I have to blame my dad, in that he enjoyed all things technical and even built our first TV set in 1953 from a war-surplus radar set, but that's another story. If you're inclined, you can read about it here.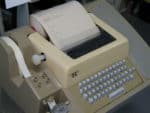 I started my technical career with 'The Phone Company'  on 6/6/66. My early years were in technical design and maintenance in the world of telecommunications. I worked in the world of telephony, radio, and teletype. I wonder what happened to the teletype machines of yore? My first 'computer' printer was actually a teletype machine, that I modified to print text from my Radio Shack TRS-80 computer.
Chris Cane's first Computer!
I purchased my first desktop computer in 1977, that's forty years before I typed these words. How many of you recall the TRS-80? I moved from technical maintenance to the world of sales and marketing in 1975 and in 1998, my wife and I began the migration of working for a large employer to a two-person home-based business.  We'll never be rich but we are free of the shackles of employers.
Chris Cane somehow became a septuagenarian with a diverse knowledge in many scientific areas. He has worked as a technician in the fields of telephony, digital communications, troposcatter radio, radar and many other areas such as sales and support for Linear Accelerators for SLAC, CERN and Fermi Lab as well as MRI Machines, Searchlights, AM, FM and TV Transmitters as well as display systems. Chris Cane still maintains a high degree of curiosity for all things technical.
I met my wife Cheryl on August 6th 1966 on a blind date and we were married a couple of years later in 1969. We started Amjo Corp in 1998. Amjo Corp became a distributor for Curatron Systems in 2000 and we have worked closely with Ben Philipson at Curatronic. Our PEMF Focus is The Curatron Family Read about our elopement www.cane.com/the-elopement
Chances are if you call Amjo, you'll chat with Chris – Here's our Product Support Page.
Amjo Corp has been working with Curatron systems for nearly two decades. Our first sale of a Curatron PEMF system was in May of 2000. Our experience and knowledge are second to none. Call us and find out!
The information at this website including the science pages, doctor's letters and the testimonials from our customers are not meant to imply that you will receive similar or identical results. It is very important that you do independent research before ordering a Curatron 2000 product. The information provided in this website is not medical advice. Readers are encouraged to obtain the help, services, and recommendations of doctors and other licensed medical practitioners. The webmaster and none of us at Amjo Corp are not medically trained and we are selling this product as a business and for profit. In the USA, the Curatron 2000 series have not yet been granted FDA approval as a medical device.  Please read and heed all the information provided by your doctor and in the manual provided with the products we sell. We strive for accuracy. It's possible that there are errors on this website, you the web visitor should take the time to perform thorough research independently of this web site, Amjo Corp and Curatronic Ltd. cannot be your sole source of information. We encourage you to do independent research of this technology. Please do not use this website as your sole source of information for PEMF Technology. Outside the USA pulsed magnetic field therapy (PEMF) has been approved in some countries, by health authorities as medical therapy for human applications. In the European Community the Curatron devices are certified as medical devices according to the Medical Device Directive 93/42/EEC.  The devices are manufactured according to ISO 13485 for Good Manufacturing Practice.